Transport
Click on the drop downs below:
Buses
St Joseph's works very closely with Newport Bus, Monmouth Travel and Phil Anslow who will be issuing your bus pass and will be responsible for your journey.
www.newportbus.co.uk
www.philanslowcoaches.co.uk
www.monmouthshire.gov.uk
Bus passes must be valid and presented for each journey or money to purchase ticket for travel to and from school.
Bus Timetables
Newport Bus (SJ1 - SJ13)
Newport Bus (Lilac)
Phil Anslow
Monmouth Travel
Caldicot and Chepstow (SJT2)
Information for 23/24 Academic Year:
Students from Newport areas
Parents of eligible children starting in Year 7 in September 2023, can apply for free school transport using this link at Newport City Council. The closing date for applications was 21 May 2023. If parents/carers haven't yet applied, please ring 646646 and ask for the passenger transport team.
Pupils already using school transport do not need to re-apply unless they have moved home address or changed school.
Season tickets will automatically be renewed for existing pass holders or for new pupils applying for September and meeting qualifying requirements, sent to your home address during August.
Contract permits issued previously will not expire until the date shown on the pass.
If there is a change of school, home address or if the council finds a shorter walking route within the distance criteria limit, a child may no longer be eligible for free home to school transport.
If a child's home address changes, please inform Newport City Council immediately.
Only pupils in Reception and Year 7 and others making a first application need to apply.
Bus routes, timetables and service details can be found using the links above.
Please call 01633 670563 or use the link below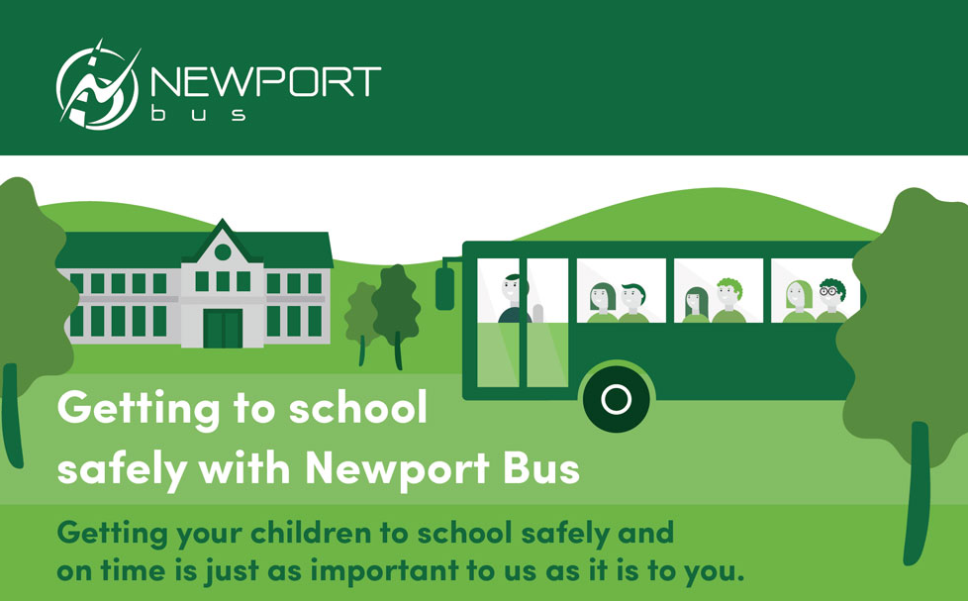 Free home to school transport is provided to secondary aged pupils who live 3 miles or more from their catchment or nearest available school, including Welsh-medium and faith schools. Also on this page you will find an application process for Post16/Sixth Formers to complete.
Pupils can pay cash on the bus: £1.25 (£1.45 from April 23rd 2023) for a single journey or £2.50 (£2.90 from April 23rd 2023) for multiple journeys over the period of one day.
Should you have any further queries, please contact Newport Transport direct on 01633 670563.
---
Students from Chepstow and Monmouth areas
Bus routes, timetables and service details can be found using the links above.
Please call 01633 644502 for further queries.
CARS / DROPPING OFF
When dropping students off at school in the morning or picking up in the afternoon, please follow these simple procedures. This should ensure the safety of your children and minimise any negative impact on the surrounding neighbours.
• Please drop off/pick up students inside the school grounds.
• There are specific drop-off spaces at the front of the school.
• Please do not drop off/pick up students outside the front gates.
• Please do not drop off/pick up students at the back gate (Sandpiper Way).
PLEASE RESPECT THE LOCAL RESIDENTS: Please do not park and wait for your child on Sandpiper Way (at the back of the school), some residents are finding it very hard to come and go especially one family who need access for a disability vehicle. Thank you for your cooperation. Diolch yn fawr.
CYCLING
We are happy to encourage pupils to cycle to school and we have provided numerous bike storage areas for them to be secured safely. Please bring your own lock.
We are delighted to see so many pupils taking the opportunity of cycling to and from school and all the benefits a healthy commute brings. We would also like to bring the following information to families' attention;
Bikes must be ridden safely both on and off school site, consideration for other road users and pedestrians is paramount
Cyclists should take all necessary precautions to ensure they are wearing the correct equipment at all times
St Joseph's is strongly recommending that ALL CYCLISTS wear a cycle helmet for their journeys, please see the video links below for advice on how to fit, wear and purchase the right one
If any cyclist is seen or reported not riding safely on the highway or school grounds then the privilege of cycling to school will be taken away
When riding to school please factor enough time into the journey in order to arrive safely and on time.
---
Cycle Safety
Cycling can be a fun, healthy and energising method of travelling to and from school and St Joseph's would like to encourage pupils to choose this option while also providing facilities to store bikes securely and safely. However, those who ride to school must be aware of the real dangers if they do not use the public highway in a safe and considerate manner or ride bikes in a style that is a hazard to themselves and others.
Students who persist in breaking the Highway Code for cycle users will not be allowed to participate in the 'Cycle to School' scheme.
Please, would pupils, parents and carers use the following links so that cyclists wear the correct clothing, take all safety precautions seriously and are aware of their responsibility in using the highway.