Spirituality
"Within the distinctive character of Catholic education, spiritual and moral development are intimately connected with, though not identical to, religious education, catechesis, collective worship, private prayer and liturgies. However, they are also promoted through all the subjects of the curriculum and throughout the general life of the school."
Spiritual and Moral Development Across the Curriculum
Our mission and purpose at St Joseph's RC High School mean we recognise the importance of helping our students, each in their unique way, to think, appreciate, question, struggle, suffer, wonder, love, reflect and, indeed, work.
As a faith school Religious Education is enhanced by the following:
Daily Act of Worship
Whenever students meet, be it with their form tutor, subject teacher or in assembly, it begins with a prayer. We also gather for liturgies and Mass at times throughout the year.
Catholic Pupil Profile
"What can we say the kingdom of God is like? It is like a mustard seed which, at the time of its sowing in the soil, is the smallest of all the seeds on earth; yet once it is sown, it grows into the biggest shrub of them all and puts out big branches so that the birds of the air can shelter in its shade."
Gospel of Mark 4:30-32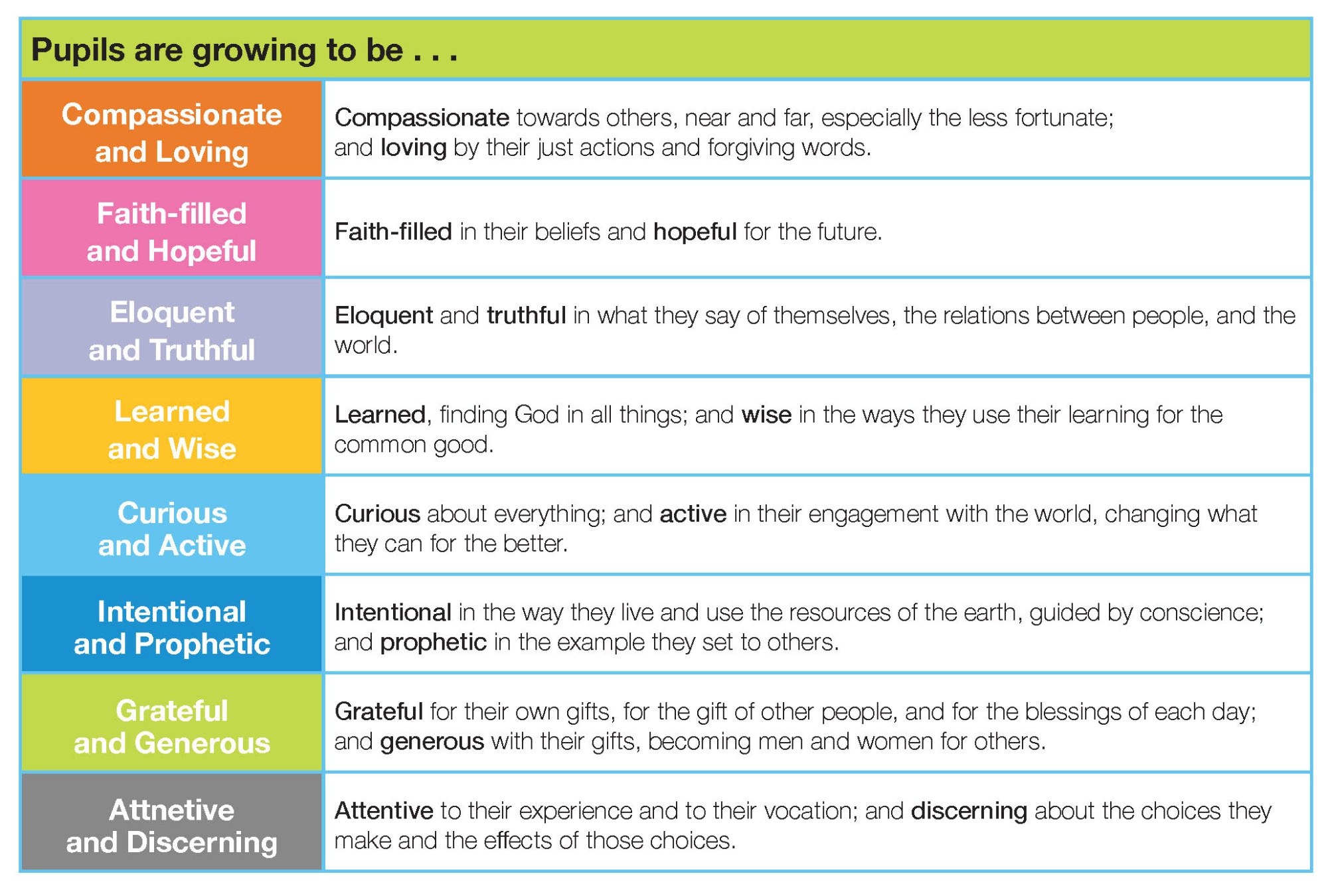 Retreats
During the year students in KS3 will have opportunities for retreats in our Religious Centre and Belmont Abbey with members of the RE department and their form tutors. KS4 pupils are given the opportunity to attend St Cassian's, Kintbury Retreat Centre twice a year.
Chaplaincy
The school has a Chaplaincy team that is led by Mrs. Kathryn Burke, Head of RE and consists of members of the SLT, Head of Drama, members of the RE team, Technology and Music departments, two members of the Youth Chaplaincy team, Sr. Denise (Foundation Governor and responsible for supporting the spiritual and faith development of the school). This team helps to guide and reflect on the spirituality of the school.
The Youth Chaplaincy Team
The Youth Chaplaincy Team consists of 15 members of staff and students who are interested in the spiritual and faith development of the school. Each year group is represented. The aims of the team are:
To empower young people to live as disciples of Jesus Christ in the world today.
To draw young people into responsible participation in the life, mission and work of the Catholic faith community
To foster the total personal and spiritual growth of each young person
To demonstrate the Christian faith in action in the school and surrounding community.
To raise the self -esteem of young people and help develop the spiritual life of young people, particularly in regard to being able to express their feelings
To help young people explore spirituality and faith and develop capacities for independent and critical thought including encouraging the setting apart of moments for stillness and reflection
Provide learning material and situations that encourage moral responses and obligations towards other people and promote racial, religious and other forms of harmony
To help students recognise and respect the diversity of the different cultures represented in the school and wider community