Distance Learning
FORTNIGHT LEARNING PLANS
The Fortnight Learning Plan will be available each fortnight on the Monday afternoon, please click relevant link below. Please encourage your child to ask their subject teacher any questions they have related to the homework tasks set during lessons. Pupils can also post direct comments on the Google Classroom to their subject teacher if needed.
Click on the relevant year group button to view your fortnightly plan:
19 October - 6 November 2020:
5-16 October 2020:
21 September - 2 October 2020:
7-20 September 2020:
Blended learning will continue to play a very significant part in your child's progress for the next academic year and onwards throughout their education. At St Joseph's RC High School we use Google Classroom.
The main features for our students are:
Assignments: this allows students to HAND IN work and for teachers to Comment, Mark and Return.
Material: this allows students to access a range of material to include Google Docs, Google Sheets, all Microsoft documents, pdfs, You Tube, videos, etc.
Question: students can reply to each other or the teacher.
Quiz: students can answer and submit.
---
HWB TEAMS: LIVE LESSONS
Click on the video guide link for a step by step on how pupils access live lessons through Hwb Teams.
---
GOOGLE CLASSROOM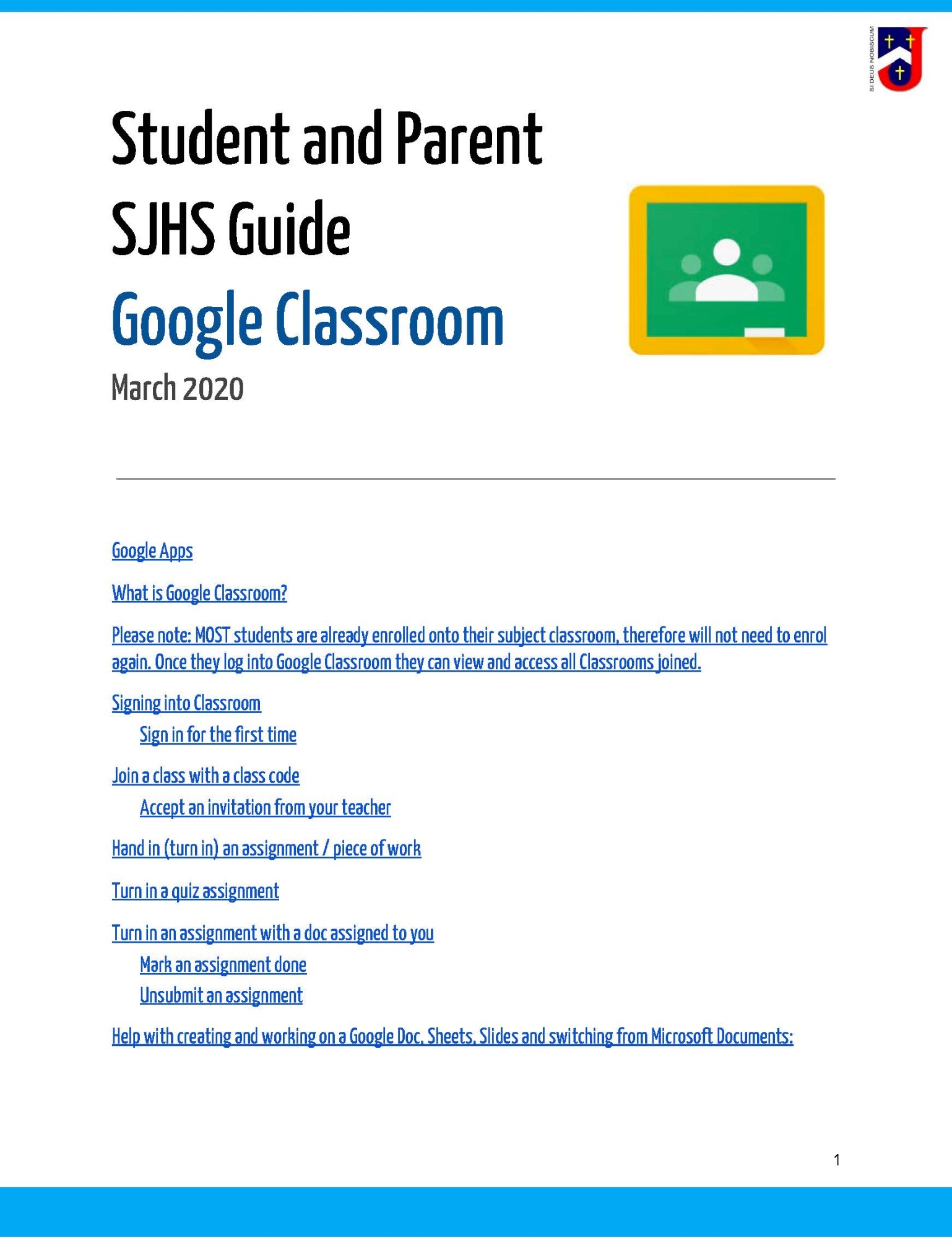 To access Google Classroom click here.
For our information guide on Google Classroom click here
If you encounter any technical issues when logging into SJHS Google Classroom,
please contact IT Support in the first instance: techsupport@sjhs.newport.sch.uk
Click on the video for a simple walk through of accessing and using Google Classroom.
Google Classroom Codes:
Please see the list of Google codes for all classes, click on relevant link for downloadable PDF
These codes are to enrol onto your class for each subject. You will only need to do this once.
PRACTICAL ACTIVITIES AND IDEAS

| | |
| --- | --- |
| Science Experiments | wdjurry |
MISC CoDES
Book Club
Mr Watts
Yr7 b2pheby
Yr8 e7dnbxz
Yr9 twpqy36
Yr10 qpocxeu
Yr11 i2ozs2q
6th xhelsd5
Hogwarts
Mr Watts
odrig5t
All our pupils have accessed Google Classroom, and most have already 'joined' a class with each of their teachers. In case Classrooms have been recently set up and your child has not had the opportunity to join, we have attached all the Classroom codes for every classroom in the school. The code is only needed ONCE to join the class. Please use the Support Guide attached to support your child in joining the relevant classrooms.
The Support Guide will allow you and your child to:
Have an overview of Google Classroom, its features and Google Apps.
Sign in
Join a class
Hand in work (assignment) and unsubmit work
Turn in a quiz assignment
Help with switching between Google Apps and Microsoft documents.
Please note, pupils can hand in different types of documents, whether created on Microsoft such as Word, PowerPoint, Excel etc., pdf, video clips and photographs.
It is important that your child regularly checks their Google Classrooms for updates.
In order to fully support you, we have also created a helpdesk email if needed:

techsupport@sjhs.newport.sch.uk

Our IT team will try their best to support you with any issues. Please allow them time to reply, in particular if emailing outside of school hours.
Click here to see lots of Student Safety information and keeping your children safe online.
---
Additional Learning websites
There are some great online classrooms out there if you would like to extend your learning.
Try The Oak National Academy Classroom for subject organised into Year groups.
---