Bank of England Challenge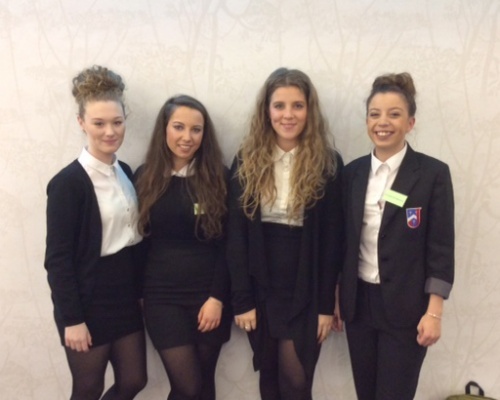 Bethan, Elisa, Grace and Amy from the Year 12 Economics class have taken part in the Target 2.0 Interest Rate Challenge organised and run by the Bank of England
Bethan, Elisa, Grace and Amy from the Year 12 Economics class have taken part in the Target 2.0 Interest Rate Challenge organised and run by the Bank of England. They were up against six other schools in Cardiff.
The team presented to a panel of judges from the Bank of England about what they believed the base rate of interest should be set at. They had to research many policies and economic areas (domestic and worldwide) and use data to decide the base rate of interest and justify the decision. They were then questioned on their presentations and reasons for their decision.
They were presenting against private and public schools and most of the teams consisted of Year 13 pupils. The St Joseph's team did really well to take part against older students who had already completed their AS Economics year.
Unfortunately, our team did not get through to they next heats; there was only one space to the next round and the Cathedral School, Cardiff were awarded the place. At the end of the challenge our pupils received very positive feedback from the judges, and we are very proud of their efforts and how well they represented St Joseph's. Congratulations Economics Team.