Fantastic new library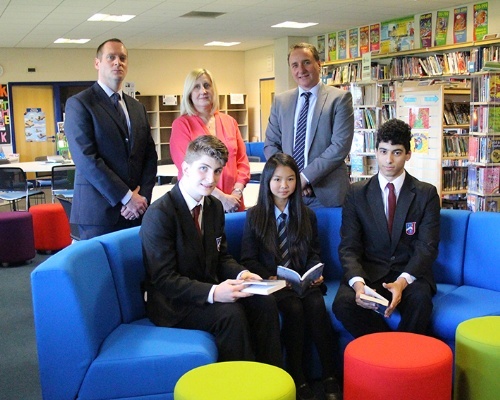 St Joseph's is pleased to announce that during the Easter half term, the School Library had an amazing refurbishment. It looks fresh, organised and modern and is working like a dream
St Joseph's is pleased to announce that during the Easter half term, the School Library had an amazing refurbishment. It looks fresh, organised and modern and is working like a dream.
The new library now boasts two soft seating areas for comfortable reading, large tables and supportive chairs for quiet working, a large screen TV and full network capability. There is also a new wall of seating for pupils undertaking work on fixed PCs and a 'iPad bar' with high chairs, in preparation for future mobile IT capabilities at St Joseph's.
A draft design was put together for the school by Bridgend Office Furniture (Newport City Council's approved furniture provider) together with useful and relevant input from our 'Pupil Voice', final furniture design and colours were selected at the end of last term.
Initial feedback from pupils has been extremely positive and Mrs Hayman has been a very busy lady with increased numbers using the facility since the improvements were made. We hope that the more modern user-friendly environment will continue to encourage greater use of the facility for general reading / literacy and research via IT facilities.