Budding Year 10 Entrepreneurs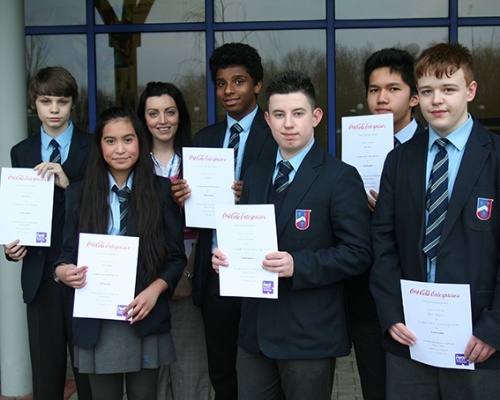 Congratulations to our Year 10 Business Studies students for reaching the regional finals of 'The Real Business Challenge 2014' sponsored by Coca Cola, held at Cardiff Millennium Stadium
Congratulations to our Year 10 Business Studies students for reaching the regional finals of 'The Real Business Challenge 2014' sponsored by Coca Cola held at Cardiff Millennium Stadium.
Budding entrepreneurs in Year 10 Business Studies participated in 'The Real Business Challenge 2014' sponsored by Coca-Cola Enterprises. Nearly 5000 students entered the national competition where they had to produce and present a new, healthy, juice brand for Coca Cola.
Approximately 80 pupils reached the Welsh Regional Final which took place at Cardiff Millennium Stadium on the 13th February 2014 and St Josephs RC High School were amongst the lucky few!. Pupils worked hard throughout the day on a new campaign to promote the charity "street games" which encourages young people in disadvantaged areas to engage in sport. Our students impressed the judges by working on the live project creating a viral video and very professional presentation! The financial and commercial director of Cola Cola enterprises commented on our pupils "great team work as a whole and in smaller groups!"

Although we did not win the competition to attend the final in London, pupils developed their skills and the attributes needed to succeed in a business environment. They will also be able to add that they worked with Coca-Cola enterprises on a live project which will speak volumes on their future CV's and UCAS applications! Pupils were already asking Miss Dack if they could mentor the next group of Year 10 business pupils when they prepare for the challenge next year!

Well done to the following pupils:
Aaron Thomas, Luke Di Franco, Kent Rosario, Ethan McMahon, Jacob Pyne, Christel Bodonia and Maciej Byles.