MAT Bridge Success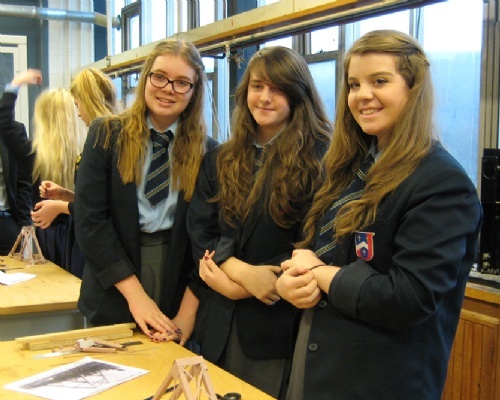 Congratulations to our More Able and Talented students who won first prize in the Bridge Engineering Challenge at Pontypridd University at the end of last term
Congratulations to our More Able and Talented students who won first prize in the Bridge Engineering challenge at Pontypridd University...
Kerry, Cerys and Josie represented St Joseph's RC High School competing against five other Newport schools in the MAT Bridge Engineering Challenge at the end of last term. Their task was to design a bridge, in less than a day, that would hold a relatively enormous amount of weight - 50kg of sand. All the teams were given simple tools and materials to build their bridges once the design was complete.
It was very exciting and needless to say, the girls were absolutely outstanding and beat their competition, taking first prize and winning a £50 book voucher. The day was fantastic for all students and staff involved, and every student represented their school in a very positive light. Well done and thank you girls.