Taith i Batagonia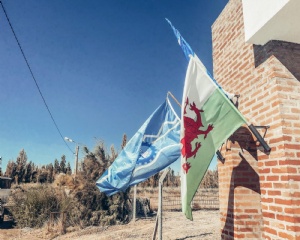 On the 10th of April 2022, the Welsh Department took 25 pupils from Years 8-13 to Patagonia in South America for 10 days.
On the 10th of April 2022, the Welsh Department took 25 pupils from Years 8-13 to Patagonia in South America for 10 days.
Days 1 and 2
We set off from school at 2am to make our way to Heathrow Airport and our 1st of 3 flights to Houston Texas, followed by a flight to Buenos Aires before finally arriving at Patagonia on Monday night, absolutely shattered but all looking forward to our Patagonian adventures the next day.
Day 3
After breakfast, we met with our knowledgeable tour guide Carina who walked us to the Paleontological museum in Patagonia. We were taught how the land had changed to form South America and all the different species that lived in Argentina before being show a documentary about the largest dinosaur to ever be discovered in the world in Patagonia called the "Patagotitan" as well as the laboratories where the palaeontologists worked on this discovery.
We then visited a Welsh speaking primary school called, "Ysgol yr Hendre" and were warmly greeted by Year 4 and 5 pupils who sang songs in Welsh to us and recited poetry that they had learnt in Welsh for their school Eisteddfod. Both Ysgol yr Hendre pupils and St Joseph's pupils were speaking to each and playing games in Welsh. What an unforgettable experience that was.
We then went to Pueto Madryn to see where the Welsh people had originally landed in 1865 and made a home for themselves and their families. In May 1865, 150 Welsh people set sail from Liverpool on the tea-clipper boat called, "Mimosa" and arrived in Puerto Madryn 8 weeks later on 27th July having travelled over 8,000 miles. We met some very friendly local volunteers who told us the history of the landings all through the medium of Welsh.
Day 4
Today, we travelled to Playa Union and went on a dolphin watching boat trip. The Tonina Overa or Panda dolphins are unique to Patagonia and were absolutely spectacular to get up close to as they look like mini orca whales. We all had lots of fun trying to spot them whilst on the boat, but Mrs Davies wishes that she had brought her sea legs!
After the dolphin watching, we went to Punta Tomba where we could walk amongst the Magellanic penguins before they migrate back to Brazil. The Magellanic penguin was named by the Portuguese explorer Ferdinand Magellan, whose crew spotted it while sailing around the tip of South America. The penguins were really friendly and considering we visited at the end of their breeding season, there were still lots of penguins there as well as armadillos in the wild and red llamas wandering around!
Day 5
Today we visited the town of Gaiman and specifically the Regional Historical Museum, the Old Railway Station and the Bethal Chapel as we followed in the footsteps of the Welsh settlers. After speaking to and meeting lots of different Welsh speaking tour guides, we then had a traditional Welsh afternoon tea in "Plas y Coed" tearooms with Welsh cakes, Welsh tea, cakes and bara brith. Absolutely delicious!
Day 6
So today we said goodbye to Carina our tour guide, who had provided us with plenty of memories of Patagonia and we headed off to Buenos Aires. We were all sad to leave Patagonia but we gave Carina our Welsh flag signed by all of us so a piece of St Joseph's will remain in Patagonia.
Day 7
We met Antonella, our fabulous tour guide in Buenos Aires along with Alex "the legend" bus driver! We had a full day of sight seeing in Buenos Aires as we walked down the Casa Rosada Presidential on the Plaza de Mayo and saw many landmarks such as the Teatro Colon. We walked down the Grand Avendida de Mayo, explored the cobblestone streets of San Telmo (the birth place of the tango) and saw tango dancers. We saw the famous Boca Junior football stadium along with the brightly pained house of La Boca before ending our day visiting the grave of Evita.
Day 8
Today we visited Estancia Don Silvano, which is an El Gaucho ranch and tried our hands at being cowboys for the day! We all rode horses, with some having more success than others! We had a big Argentinean BBQ followed by a tradional Argentine dance and singing show.
Days 9 and 10
Today we said "adios" to Buenos Aires as we began our return journey back home to Newport. We did stop off in Houston, Texas for a little while and visited the Houston Space Station where we saw over 400 space artefacts including the Saturn V rocket, of which only 3 remain, before heading back to the airport for our final flight home.
We had an amazing adventure during the Easter holidays and a great big thank you goes to Mr O James for organising such a fantastic and memorable trip of a lifetime. Diolch yn fawr iawn!
See the Summer Newsletter 2022 for lots of photos.