Cyberfirst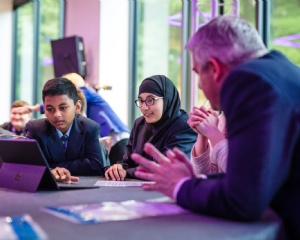 SJHS were invited by the NCSC (National Cyber Security Centre) to experience CYBERUK .
CYBERUK has become a key date in the calendar for thought-leaders in cyber security and technical professionals from the UK and around the world. This year SJHS were invited by the NCSC (National Cyber Security Centre) to experience this event.
Our students had the opportunity to participate in a range of experiences with some of the largest IT and security companies from across the world and UK government security agencies
We were the given the privilege to host a meeting with a senior government official to discuss our involvement in the NCSC CyberFirst Program and our recognition as a Silver Award CyberFirst school. Lead Minister for Cyber and Chancellor of the Duchy of Lancaster, Steve Barclay took part in a Computer Science lesson, discussed with students their cyber education experiences and aspirations for the future in this field.
St Joseph's RC High school was the first state secondary school in Wales to be awarded the Silver Award for the NCSC's CyberFirst school's program.
Over the past 5 years we have developed a challenging, engaging and rewarding curriculum that is centred on computer science, applied digital skills and cyber security. CyberFirst activities are intended to inspire and encourage students from all backgrounds to consider a career in cyber security and apply for a CyberFirst bursary.
Chancellor of the Duchy of Lancaster and Lead Cyber Minister, Steve Barclay said:
"These skills are crucial in helping to boost our individual and collective cyber defences from the threats that we face, so I was delighted to see the enthusiasm and passion of both children and teaching staff at the school."
A key component of our success has been our participation in the NCSC's Cyber girl's competition. This has enabled us to provide further opportunities for our school community and to inspire us to achieve more in the cyber world.
The NCSC have been fantastic in giving us guidance, a link to real industry experts and professional learning opportunities. The NDEC team, led by Holly Lidbury, have been particularly supportive and encouraging with our journey as a CyberFirst school. It was great to have Steve Barclay here today to show off what we've managed to achieve so far, and we look forward to some of our students helping shape the UK's cyber future.