Helpwr Y Tymor!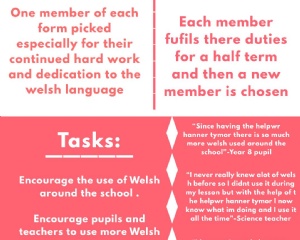 Dedication and hard work to the Welsh language rewarded
Our Cyngor Cymreig has kick-started the Helpwr Y Tymore again this year.
One member of each form is picked especially for their hard work and continued dedication to the Welsh language. Each member fulfils their duties for a half term and then a new member is chosen.
Tasks:
Encourage the use of Welsh around the school
Encourage pupils and teachers to use more Welsh in lessons
Help make Welsh more simple and easy to use for the teachers
"Since having the helpwr hanner tymor there is so much more Welsh being used around the school"
Year 8 pupil
"I never really knew a lot of words in Welsh so I didn't use them during my lesson, but with the help of the helpwr hanner tymor I now know what I am doing and use Welsh all the time" Science teacher
Could you be the next Helpwr Y Tymor?