Careers Day 2019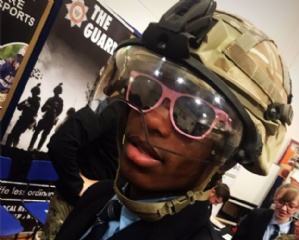 The future's so bright I've gotta wear shades!
The future's so bright I've gotta wear shades…..
Years 9-13 students attended a Careers Fair this week, held in the school hall and supported by Careers Wales. With over 30 employers from a range of sectors such as:
The Royal Navy
BAE Systems
Morgan Sindall
DACBeachcroft
The University of South Wales
The Guards
Engie
The Army
Royal Air Force
Yprentis and many more...
Our students were given the opportunity to partake in fun and practical activities, engage with potential employers and simple chat and ask questions - enabling them to gather up-to-date information and helping them make effective and realistic career plans or just give them ideas for the future if they have no real career plan yet!
Careers Wales demonstrated how their website www.careerswales.com can help them with successful career planning and offered students the opportunity to raise their self-awareness by completing an online personality quiz ( i.e. https://icould.com/buzz-embed/).
If you're interested in employment, engagement to enrich your curriculum, more opportunities are available and can be booked via the Education Business Exchange. For more information contact our school Careers adviser Nerys Bullen on nerysbullen@careerswales.com
We would like to thank all the employers and individuals who came and interacted with our pupils, they were chatting about it all day and it was a massively beneficial event to all ages of pupils that attended. Although a little early in the year to warrant wearing sunglasses all day - they did anyway!!!