Girls Can Do Anything...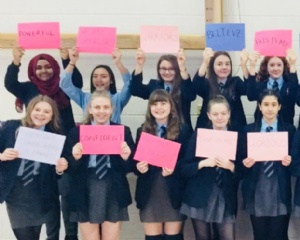 Year 9 girls celebrate their mental strength and physical health during Mental Awareness Week.
We Can Do Anything.
Year 9 girls from classes 9J and 9O, led by Amelia Warren (9J) and Miss Russell, have been working very hard on a film to celebrate their strength as confident, independent young women people. They devised all the choreography during their PE lessons, devised and filmed the buzzwords and compiled the finished piece in their own time.
"We made up these dances to show what we can do. We can do anything...!" Amelia Warren
---
Mental Health Awareness Week 2018
There's a lot of people in the world...approximately 7.4 billion!
No two people are the same, we are all unique...
We should all be able to celebrate our uniqueness! Remembering all the good things that make us who we are, can help us feel better if things go wrong. If you're not sure about something, you can find an adult who you trust to talk to – it could be someone in your family, a teacher, or someone else in school.
Mental wellbeing describes your mental state - how you are feeling and how well you can cope with day-to-day life.

Our mental wellbeing is dynamic. It can change from moment to moment, day to day, month to month or year to year.
For lots more information take time to look at these websites:
www.mind.org.uk
www.time-to-change.org.uk
If you have good mental wellbeing you are able to:
feel relatively confident in yourself and have positive self-esteem
feel and express a range of emotions
build and maintain good relationships with others
feel engaged with the world around you
live and work productively
cope with the stresses of daily life
adapt and manage in times of change and uncertainty
Everyday Living
Living with a mental health problem can often have an impact on day to day life, making things that others might not think about a bit more difficult. MIND.ORG put together these tips and guides to help you cope with everyday things like school, click on the words that are relevant to you to find out more...
food and mood
relaxation
sleep problems
carers, friends and family - coping and support
online safety and support
mindfulness
stress
wellbeing
parenting with a mental health problem
loneliness
physical activity, sport and excercise
LGBTQ mental health
nature and mental health
workplace and mental health
student life
Build positive relationships
Connecting with others can help us to feel a greater sense of belonging and can help to challenge feelings of loneliness.
Make time for the people you love. Keeping regular contact with friends and family, whether it's face-to-face, on the phone or by text, can strengthen your relationships.
Join a group. Think of the things you like to do, such as drawing, gardening or sport and look for local groups. Meeting others with a shared interest can increase your confidence and build your support network.
Talk about the way you feel. Opening up to a trusted friend or family member can help you to feel listened to and supported. Just acknowledging your feelings by saying them out loud can help.
Use peer support. If you're finding things difficult, talking to people who have similar feelings or experiences can help you to feel accepted. This could be online, such as Mind's Elefriends community, or at a peer support group.
Volunteer at a local school or hospice. Giving your time to those that need it can be extremely fulfilling and can help you to look at things from a different perspective. See the Do It or website for volunteering opportunities in the UK.