National School Hockey Finals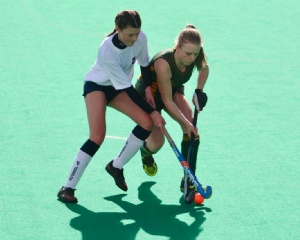 SJHS Girls U18's Hockey Squad play a fantastic match in the National Schools U18 Hockey finals in Swansea
St Josephs U18 Girls Hockey team deserve an enormous congratulations for placing runners-up in the National Schools Hockey Finals held at Swansea University.
The squad dominated the field in each match, showing off their teamwork, talent and determination. Winning 3 out of 4
of their matches to make it through to the semi-final. A great match showed some real skill by each team, but St Josephs girls gave that extra push and an amazing goal to take them through to the finals against Christ College.
The atmosphere was tense as the girls lined up for the start of the game! Thanks to the support of the subs, Mrs Geeves and all the parents that came to watch the match, it was both exciting and stomach-churning all at the same time.
The St Josephs girls played some wonderful hockey but were pipped at the post after penalty goals.
The whole team and all the supporters should be commended for their sportsmanship, immense talent and above all determination. It made the whole day, all be it a little chilly, a wonderful experience. Mrs Geeves is delighted with the behaviour and grit all her players showed throughout the tournament.
Well done St Josephs hockey...