SHOUTS 2017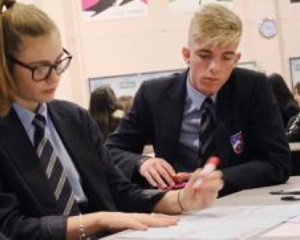 SHOUTS: Students Help Out Students. Launch Event 2017
SHOUTS Launch Event
SHOUTS: Students Help Out Students; a restorative behaviour programme lead by Mrs Elaine Yates, Assistant Headteacher at St Josephs RC High School.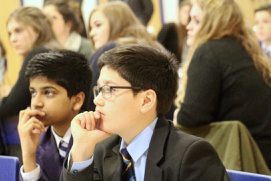 ​

"As teachers we want to empower our students to have the skills for life. We are always so impressed with the enthusiasm of our young people to take on leadership roles. For this reason we facilitated an event to bring together students aged between 11-18, from across the Newport area at St Joseph's RC High School. The objective was to build a cohesive group of students and teachers alike to create a shared plan not only within our individual schools but across Newport as a whole." (Mrs Elaine Yates)
Estyn's Chief Inspector said: "Schools should be places where all pupils feel safe and able to learn. Bullying not only affects a child emotionally and psychologically, but can result in poor attendance and underachievement."
The SHOUTS workshop fully engaged each student, arming them with bullying statistics and hard-hitting information through films and presentations, fully involving them in the learning and discussion process. Each student was asked what he or she would LIKE to learn from the day…
A Year 12 student from St Joseph's RC High School said "I would like to get a step closer to resolving bullying."
"I would like to have a feeling of empowerment to address bullying" said a Bassaleg High School student
A Year 11 student from Brynmawr Foundation School said they would like "a greater understanding of different types of bullying and bullies"
The rise in cyberbullying is a particular problem for schools because it is anonymous and pupils can be too embarrassed to report it. When asked what they had learned from the SHOUTS workshop all students were very positive and had thoroughly understood and engaged with the restorative solutions to combating bullying within our schools. Year 13 John Frost High School students concluded "Bullies have a story to tell and reasons for their behaviour too, we can see a restorative talking technique would resolve both the victims and the perpetrators' actions much quicker than normal punishment"
A Year 9 Llanwern High School student admitted, "I didn't realise that bullying comes in so many different forms and that ANYONE can be a victim"
"Bullies sometimes have reasons for their behaviour" Year 7, Bassaleg High School
and a Year 7 Caerleon Comprehensive student positively concluded that "I can prevent bullying when I see it, I just report it"
"Having a restorative programme which can help build friendships and positive relationships" was a solution to bullying by a Year 11 Lliswerry High School student.
Thank you to all the student and staff representatives from Bassaleg High School, St Julians High School, Caerleon Comprehensive School, Lliswerry High School, Llanwern High School, John Frost High School, Brynmawr Foundation School and St Joseph's RC High School.