Exam Success 2013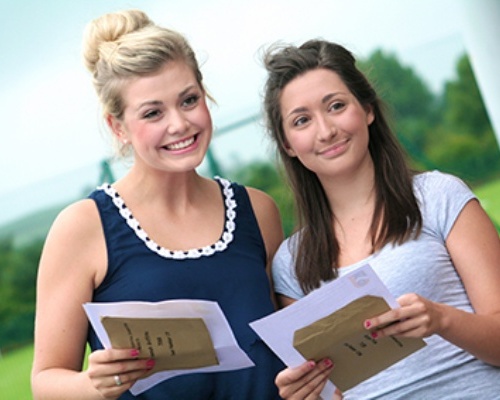 With 88% of students achieving the equivalent of 5 A*-C grades and no child leaving the school without a qualification. At A Level we bucked national trends with a record number of A* and A grades awarded to our students. These are exceptional results which will provide our students with an excellent foundation for their future careers and whet their appetites for lifelong learning. Thank you for all you do in building our partnership between home and school, which forms the foundation of this success.
A Level Success

We were delighted with the success of our Year 13 students this year. 80% of grades achieved were in the A*-C bracket, with an equally impressive 47% being A*-B and 99% A*-E. 97% of our students achieved the Level 3 Threshold. This is an exceptional achievement by our students and reflects their hard work and the dedication of their teachers. There were many instances of individual success stories, including our highest achievers, Jack Bird, Alexander O'Keeffe and Georgia Price who now take up their prestigious places at the Royal Welsh College of Music and Drama, Bath University and Bristol University respectively.
There were also stories of individuals who through persistence and determination achieved their target grades and earned a place at the university of their choice. All students who decided to attend university have been accommodated, and now take the next step in their academic careers. We wish them every possible success and happiness for the future, and thank them for everything they have given to the school during their time with us.
AS Results

Once again, our Year 12 students have managed to bridge the gap between GCSE and A Level with an impressive set of AS results. There were many examples of students achieving above and beyond expectations and they are now well on their way in taking their first steps towards the all important university application. Special mention must however go to Charlotte Burridge, George Mainstone, Patrick Quinn and Bethan Phillips who all achieved 4 or more A grades.
A number of our students have also spent time over the summer at the prestigious Oxford and Sutton Trust summer schools, where they will have honed their intellectual curiosity in preparation for their final year, and some have spent a week learning leadership skills with the Rotary Club of Newport. We would also like to congratulate all of our collaborative students who had great success with us at St Joseph's, and our students who benefited from the opportunities and teaching offered at our partner institutions. Again, we wish them every possible success
GCSE Results

Sincere congratulations to our fantastic Year 11 pupils who achieved the best Key Stage 4 results recorded by the school, with 87% achieving the Level 2 threshold. This figure refers to the percentage of pupils achieving 5 A*-C grades. The percentage of pupils achieving a C grade in Science was 96%, 81% in English Literature, 76% in English and 57% in Mathematics. We were also delighted that 97% of pupils achieved the Level 1 threshold, achieving 5 A*-G grades or more and no pupil left St. Joseph's without a qualification. This is a figure we are particularly proud of as we continue to ensure that all pupils are able to achieve whatever their ability or circumstances.
These fabulous results are testament to the committed partnership between home and school and, of course, to the hard work and considerable talent of our pupils. Some of our pupils' performance was particularly impressive, achieving top grades in many of their subjects. A special mention must go to those pupils who achieved 7 or more A/A* grades or equivalent:
Fersha Gauran 12, Hannah Brunnock 12, Jason Jim 12, Anna Maria Saunders 11, James Ruthven 11, Saleha Shah 11, Francis Bolivar 10, Giordan Price 10, Joseph Keane 10, Jemima Moorcroft 9, Leah Paginton 9, Carmen Garcia 8, Elan O'Donovan 8, Eleanor Mone 8, Maria Saba 8, Niamh Harrison 8, Nikita Tejaa 8, Raul Caguiwa 8, Sophia Brustad 8, Callum Fitzpatrick 7, Damian Smolinski 7, Eimear Brown 7, Fiona Fessey 7, Jacob Tilley 7 and Martha Pole 7.
A number of our Year 11 pupils have shown great commitment, enthusiasm and perseverance throughout their studies and we are delighted with their achievements this year. We extend our congratulations to Fiona Fessey, Abigail Jarvis, Joseph Keane, Conner Owen and Olivia White.