Have a merry Christmas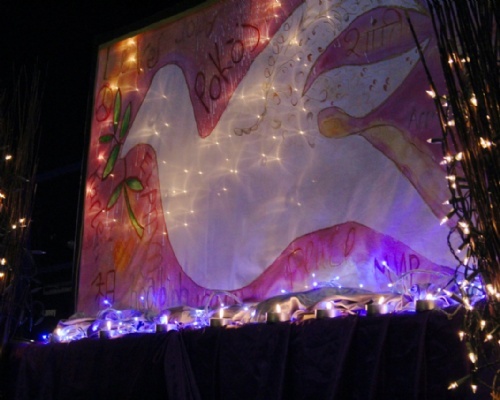 Thank you for your support this term. May you experience the promise and love of Christmas and have a safe and happy New Year.
Advent is a season that seems to get lost in our culture. We often think of the month of December as 'the Christmas season' and use this time to busily prepare our homes for the holidays. As a result, we often neglect to prepare our hearts for the coming of Christ.
Advent is a time when old customs live again, for instance in the singing of carols. This takes place everywhere, even as piped music in the shops. The familiar melodies and words can bring consolation. Perhaps they can also encourage us to think again about the truths of faith and to have another go at trusting in the presence of God, the goodness of others and in the life of the Church.
The words of the carols are like rusty signposts, still pointing out the right direction and the words of scripture are clear road signs, summoning us down paths that we might tend to ignore. Yet these are, in fact, the correct routes we should follow for the fullness of life - for a life of peace and happiness.
Advent is the perfect time to clear and prepare the way.
Advent is a winter training camp for those who desire peace. By reflection and prayer, by reading and meditation, we can make our hearts a place where a blessing of peace would desire to abide and where the birth of the Prince of Peace might take place. Let this Advent be a time of hearing and responding to the quiet knocking of the Lord on the door of our slumbering hearts.
At this time of the year, I am particularly conscious of the darkness and the chill of Winter. As we see in the news all too frequently, life is all too fragile in many parts of the world. It is hard for many people to believe that this is a time of promise and hope.
Advent however reminds us that God comes to be with us. Every time the students and staff of this school community work together whether in the learning that goes on in our classrooms every day, the preparation for our Advent services and our Christmas concert or through the extensive charity raising events that so many students contribute to, I know that this promise continues to be real through them. As we come to the end of another busy term, I am, as ever, touched by the talents, energy and generosity of our school community and this edition of our newsletter highlights just a small part of this. I hope you enjoy it.
Thank you for your support this term. May you experience the promise and love of Christmas and have a safe and happy New Year.
Mr T Brown
Headteacher