Year 8 Barcelona Trip 2013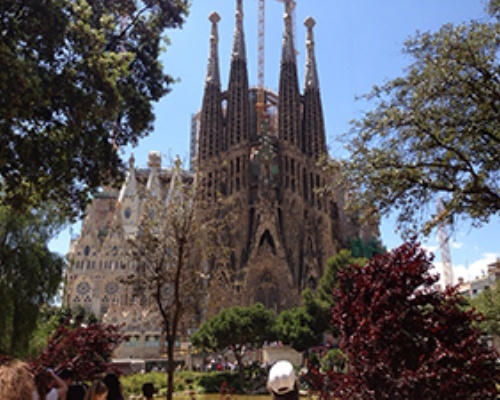 At 9am on May 21st Year 10 set off for the 24 hour journey to Calella, a truely traditional part of Spain, allowing students to haggle in Spanish as well as dip their toes in a very cold ocean!
Year 10 also visited central Barcelona and La Sagrada Familia Cathedral designed by the architect Gaudi – they have been building it for over 120 years. The famous street, La Rambla, taking in shops, Spanish market street artists and actors. Then something a bit different - the Port Aventura theme park in Salou! There were many rides, including the biggest one in Europe 'Shambala', and the longest ride in Europe 'Dragon Khan'. There were also a lot of water rides such as the rapids and the log flume.
A little more culture, and to Montserrat to visit the monastery, with its amazing history and spectacular views. All the students went into the church to watch a service and they lit candles for loved ones and a special candle for Miss Jenkins.
Just before departure from Barcelona Year 10 managed to fit it a trip Barcelona Aquarium, to marvel at animals such as penguins and iguanas, and last walk on the beach followed by packing! A final stop at the beautiful Milau Aquaduct finished Year 10's trip to Spain - with time to sleep on the coach.