Madrid Trip 2015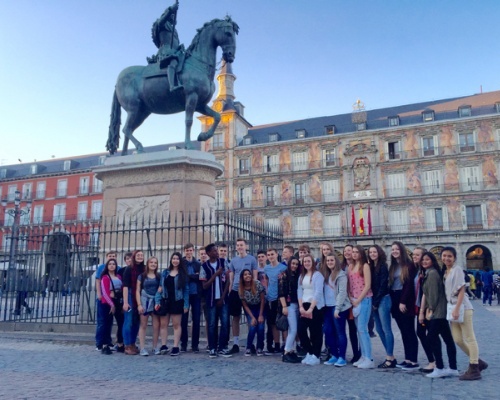 Our amazing Spanish trip to Madrid took place from the 22nd to the 26th of October 2015. It was jam packed with culture, fun, football and even a celebrity along the way! Please enter an introduction for your news story here
Our amazing Spanish trip to Madrid took place from the 22nd to the 26th of October 2015. It was jam packed with culture, fun, football and even a celebrity along the way! We departed by coach from the Asda car park at 05:45am on the 22nd of October headed for Heathrow Airport, ready for our two hour flight to Madrid on British Airways!!!
We arrived at Hotel Mediodia, in the late afternoon. Our hotel was great and had a beautiful view of Acocha, the main train station in Madrid. We then had a look around the local area including the lovely market square La Plaza Mayor, before going to bed.
On Friday we visited the Bernabeu stadium, home of Real Madrid F.C. Sadly there were no footballers around but the tour, along with the Stadium, was out of this world. We got to see the pitch, the changing rooms and even the trophies!
After several hours at the Stadium, we went to El Sol shopping district, followed by pasta for dinner at Taberna De Baco. We ended the night with a peaceful game of bowling, teachers and pupils battling it out to see who can get the most strikes! The winner was Miss Watts.
On Saturday we went on a four hour coach tour of Madrid. We saw the Palacio Real de Madrid (royal palace) and stopped off at the beautiful royal gardens. After the tour we decided to return to La Plaza Mayor market place and for some of us, we are very glad we did as when we went into one of the markets, San Miguel, we met Paul Hollywood from
The Great British Bake Off!!!
After our brief chat with him, we were whisked away to go back to the hotel to prepare for dinner. We ate at Museo de Jamon, or the ham museum where we had a lovely meal of chicken and, yep you guessed it, HAM!
On Sunday we then went to Prado Museum, where we observed beautiful paintings from various places and artists. Sadly, we weren't allowed to take photos but we all still had a great time. We finished off the afternoon with a visit to El Rastro flea market, where the pupils bought various items from souvenirs to socks!! Then we went back to the hotel to get changed for dinner at Restaurante Sanabria, which was once again a fantastic meal.
On our last day, we went to the Museo de la Reina Sofia, where we saw amazing abstract art including over 5,000 bells hanging from the ceiling. We then returned to the hotel where we finished packing and departed for our flight home at 6:25 pm.
Altogether teachers and pupils had a massively fun but at the same time educational trip.