Barcelona Trip 2015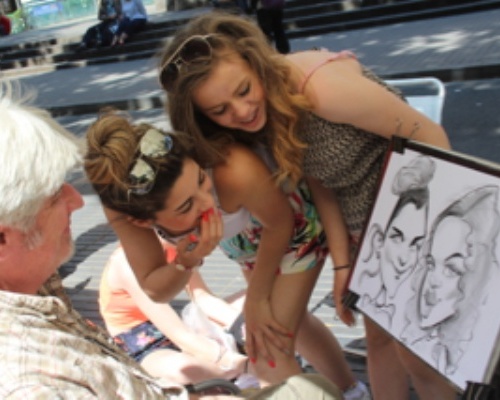 The day we arrived we unpacked and made our way to the beach...later on in the evening, after dinner, we took a short stroll to Calella to do some shopping...by Elina Dvni, Emily Harris and Blessed Nagoni
Our Trip to Calella and Barcleona by Elina Dvni, Emily Harris and Blessed Nagoni
The day we arrived we unpacked and made our way to the beach, where some of us enjoyed swimming in the sea, and some enjoyed eating ice creams and sunbathing. Later on in the evening, after dinner, we took a short stroll to Calella to do some shopping.
On the second day we travelled into the city of Barcelona, firstly taking in the amazing Nou Camp stadium. We had a full tour and even had a photograph with the cup! After eating lunch on the steps of the stadium we took a walk down La Ramblas. The whole street was full of amazing architecture by Gaudi and filled with portrait artists and the wonderful St Joseph's food market. Some of us even had a caracature drawn. Very funny! In the evening we went to the beach and played volleyball and other beach sports.
The third day involved all of us going to Porta Ventura, the theme park, where quite a few of us braved the 'Shambala' ride - the highest rollercoaster in Europe! Other rides we tried included Furious Baco and Dragon Khan. After an excitement filled day, a dip in the hotel pool was needed. Then after dinnner we all needed some time to relax so went to the beach again, some played games and some just sat and chatted. Lovely...
On the last day we visited Montserrat, a monastery built into the side of a mountain.The view was absolutely breathtaking and many of us stopped to take some photographs. That afternoon we visited the Barcelona Aquarium, it was full of all sorts of weird and wonderful sealife! We ate our final meal at the hotel and relaxed for a while (after our very strict room inspection) and lastly went shopping in Calella for final gifts and momentos.
The whole trip was amazing, and it is definitely a trip I would recommend to anyone in Year 8. It was an unforgettable experience which will stay with us for the rest of our lives. Not only was it an educational experience but it was also packed with laughter and fun. It was a great opportunity to experience authentic Spanish culture whilst still having an amazing time.