Barcelona 2014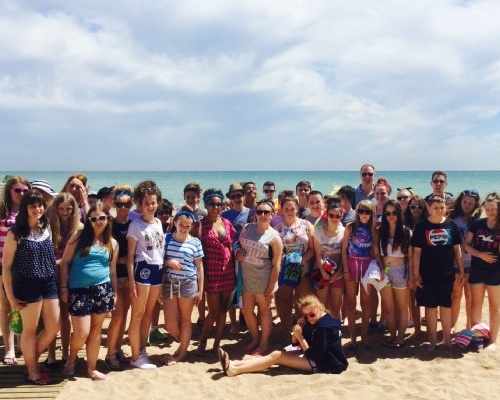 Please enter an introduction for your news story here
Year 8 recently embarked on an epic coach journey to Calella.
It was an interesting trip which encompassed activities as varied as a visit to the beautiful and peaceful monastery and cathedral at Montserrat to Beach Olympics and St Joseph's Got Talent at Calella.
We spent a fantastic day in Spain's splendid second city of Barcelona. Students toured Camp Nou, the enormous Barcelona football stadium and wandered along La Rambla, in amongst the market stalls and street artists. A highlight was a visit to Barcelona Port and the aquarium, giving us the opportunity to see the wonderfully varied architecture of Barcelona, including Gaudi's famous Sagrada Familia Cathedral.
We spent a hair-raising day at the theme park in Port Aventura where many of us went on the tallest rollercoaster in Europe.
A fun and exhilarating day was had by all.
Wandering amongst Spanish families and small shops in Calella during the evenings was lovely, allowing the students to practise their Spanish skills in the shops and cafés.
Travelling back via Milau Viaduct and Paris was an excellent end to a thoroughly enjoyable visit! The students represented St Joseph's admirably and used their Spanish at every opportunity. The staff can't wait to go back next year!
Mrs Blake
Head of Modern Foreign Languages