Advent 2018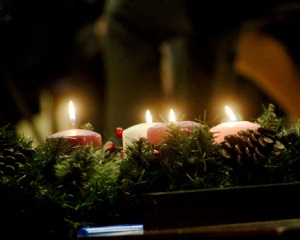 We enjoyed a wonderfully reflective advent this week, led by our Head of Religious Education, Mrs K Burke.
Mrs Burke led the most reflective and beautiful Advent service this year. We were reminded of the importance of family; of our own families and those of others less fortunate, our community family, our school family and of course the Holy Family.
We were treated to some amazing musical talent, from our orchestra and choirs. Including some spectacular individual performances. We all joined together to sing hymns such as Let Us Adore Him and Hark the Herald Angels Sing, which gave us all the most enormous warmth and Christmas spirit.
We laughed with the dramatic performance of "The Village Gossips" by the Year 10 Drama pupils and shed a tear with
Kate Catella's performance of Ave Marie.
Festive wishes to all our St Joseph's family. Have a great Christmas.