Mental Health & Wellbeing
---
Support Access with Newport MIND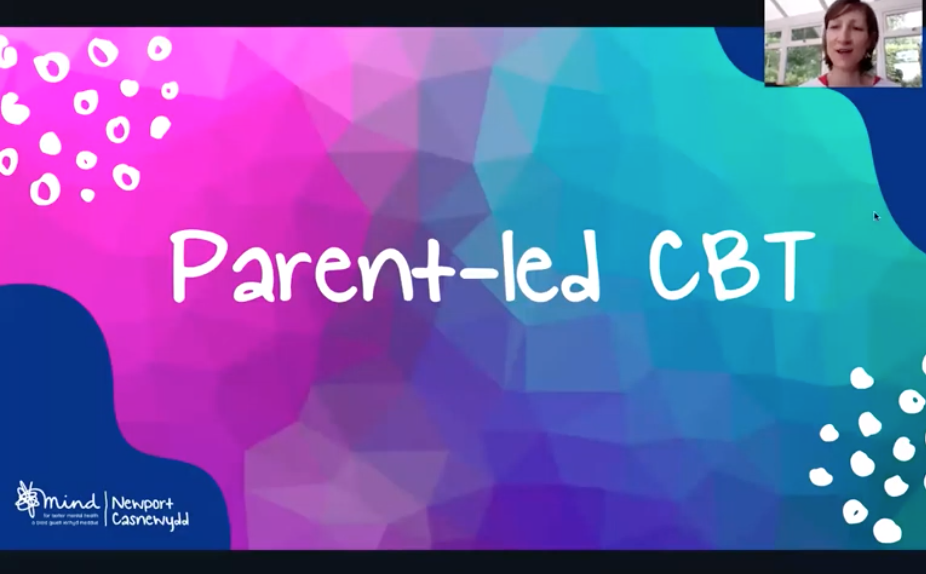 Newport Mind is currently working across schools in Newport to support young people and their families during this very challenging time. As part of a bid to provide parents with different ways to access support (therefore also helping the young person too).
Click here for information made for parents and care-givers regarding how to use parent-led CBT to help a young person who may be experiencing negative thought patterns. This technique is most often used with anxious thoughts but can also be used to help with low mood. If you could circulate this to your school communities hopefully this will be a useful resource for some families who are struggling to support the mental health and wellbeing of their young person.
Should any parents, young people or school staff feel a young person needs additional support, please click here for our Changing Minds Referral Form, where the Children and Young Person's Team will consider what support provision is the best fit.
SJHS Wellbeing Newsletter by MIND
| | |
| --- | --- |
| | This newsletter outlines the upcoming schedule of activities, how to get involved with interventions for students, staff, parents and caregivers, in addition to highlighting some of the fantastic work that has taken place in St Joseph's RC High School already this year. |
Exam Support

Exams can be a challenging time for many young people.
It can be difficult to know what to do if your child is feeling worried or stressed about exams, but there are lots of ways you can help support them. The leaflet above offers some information about how to spot your child may be struggling, and some practical tips on how to support them during their exams.

Stay well online

Social media and mental health.
Lots of young people use social media and it's likely that your child will use some form of online communication. The leaflet above aims to give parents information about social media, its potential effects on mental health, and what to do if you're worried about your child's use of social media.

Family wellbeing

Understanding Wellbeing
Mental wellbeing describes your mental state – how you are feeling and how well you can cope with day-to-day life. Our mental wellbeing is dynamic. It can change from moment to moment, day to day, month to month or year to year. The leaflet above will give you some ideas around how to support wellbeing in your family in five easy steps, making it fun for everyone involved.
The following guidance and information are intended to support St Joseph's immediate and extended communities to feel well, healthy and happy. We are offering clear steps that provide support for our families to develop and deliver their own health and wellbeing plans if they are absent from school or work.
In essence, we recommend Welsh Government's national drive in promoting the five steps of health and wellbeing;
Connect. If possible, connect and keep in touch with people around you: family, friends, colleagues and neighbours. Check on one another, if visits are not possible then phone, WhatsApp, text or face time.
Be active. If possible, get active; walk, run, cycle, play a game, gardening, dancing or construct your own home-made circuit. Ensure you are eating well, drinking water and getting the rest you need to be healthy.
Take notice. Be observant of yourself, others and your environment. Give compliments, support one another, be kind and look for something beautiful in your family or nature.
Keep learning. Stay interested in local, national and international developments. How can you help yourself and others? Be aware of other opportunities to progress your learning through the school website and Google Classrooms.
Give. Being there for one another is so important; random acts of kindness, encouragement, love and generosity. Invest in yourself, family and loved ones; compassion, time, patience and citizenship.
Click here for some great Coping Strategies from Cardiff and Vale Child Health Psychology
---
Staying Healthy
Follow our St Joes PE Twitter feed for tips on staying healthy during this period of distance learning or isolation. Just click on the icon!

School Nurses and Looked After Children`s Services
DAILY CONTACT LINE

You can contact them daily between the hours of: 10am until 2pm

T: 07500 124208
FACEBOOK: @SchoolnursingABUHB
TWITTER: @SchoolUhb
WEB: ABS Health Board

Follow our SJHSwellbeing twitter feed for links and information to help keep for mind and body healthy during the lockdown.
---
Useful links to help you stay physically and mentally healthy
Things to relieve the boredom!!!
---
Helping Others
| | |
| --- | --- |
| | If you feel as though there are at-risk individuals in your neighbourhood that may be self-isolating to stay safe, discuss if helping in some with your family is possible. Perhaps posting this note through their door with some contact details if they get into trouble? |
---
Apps and things
Try some of these apps to keep your wellbeing in shape - these are all available free on the App Store.
Audible Audiobooks

Be Mindful

Change 4 Life

Changing Health

Couch to 5K

Easy Meals

Feeling Good :
Positive Mindset

Headspace

iPrescribe Exercise

iPrevail

My Cognitive Home

The Pzizz App

Smart Recipies

Student Health

Quizlet
Useful Websites
www.mind.org.uk
www.nhs.uk/change4life
www.childline.org.uk
www.kooth.com
www.youngminds.org.uk
www.nspcc.org.uk
www.bullying.co.uk
www.annafreud.org
---
For specific advice at talking to your children about Coronavirus (COVID-19) see our Family Support page
Helpline services available
Provides free, 24/7 crisis support across the UK if you are experiencing a mental health crisis
If you need urgent help text YM to 85258
All texts are answered by trained volunteers, with support from experienced clinical supervisors
Texts are free from EE, O2, Vodafone, 3, Virgin Mobile, BT Mobile, GiffGaff, Tesco Mobile and Telecom Plus.
Comforts, advises and protects children 24 hours a day and offers free confidential counselling.
Phone 0800 1111 (24 hours)
Chat 1-2-1 with a counsellor online
Information, support and listening for people under 25.
Phone 0808 808 4994 (24 hours)
Get support online
24 hour confidential listening and support for anyone who needs it. (Adults included.)
Phone 116 123 (24 hours)
---
Talkzone
click for talkzoneDue to the very challenging circumstances that we currently find our selves in, Talkzone are extended their online service from just 2 hours on a Thursday night to 20 hrs over a week (please see the scheduled times below) from the 20th March.
| | | |
| --- | --- | --- |
| Day | Hours | Time |
| Monday | 4 hours | 2-6pm |
| Tuesday | 4 hours | 11-3pm |
| Wednesday | 4 hours | 11-3pm |
| Thursday | 4 hours | 5-9pm |
| Friday | 4 hours | 2-6pm |
'This is Me'
THIS IS ME is a campaign that will challenge gender stereotypes in a positive way aiming to start conversations about gender and to encourage people to 'live fear free' from gender constraints and gender norms.
The THIS IS ME campaign has been developed in partnership with our expert stakeholders and survivors who are part of our Violence Against Women, Domestic Abuse and Sexual Violence Communications Group.
These include representatives from:

Welsh Local Government Association
Cardiff University
Police
Her Majesty's Prison and Probation Service
What is the issue?
Outdated notions still exist of how we should all act and what behaviours and achievements we should expect as a result, putting pressure on people to conform to society's 'norms'. Our gender can have an impact on how safe we feel, where we feel we can go, what job we feel we can apply for and other people's expectations of us.
The THIS IS ME campaign recognises that we are all so much more than just our gender.
The campaign recognises that we must acknowledge the link between gender and violence against women, domestic abuse and sexual violence. It acknowledges that the pressure to conform and gender inequality present in our society can be a cause and consequence of violence against women, domestic abuse and sexual violence. Everyone in Wales deserves to live fear free of gender stereotypes –to be whoever they want to be and reach their full potential.
What can you do?
We are starting a conversation about gender inequality and how it affects people across Wales. From a man working as a midwife to a woman working as a mechanic, or a young boy wearing makeup to a young girl playing in the mud with her truck – people across Wales are already challenging gender stereotypes and 'norms', but inequality still remains.
Join the conversation on Facebook and Twitter using #thisisme to help us build a Wales that challenges gender stereotypes, a Wales free of pressure to conform, a Wales that celebrates #thisisme.
Find out more using these links:
Why gender can't be ignored when dealing with domestic violence.
Gender Stereotypes make teenagers more accepting of violence.
How can gender stereotypes affect children?
Rizzle Kicks' Jordan Stephens on the effects of toxic masculinity.
---
Further information for parents
When more spaghetti hoops end up on the floor than in their tummy...
Pan mae mwy o sbageti ar lawr nag yn eu boliau...
Being a parent can be wonderful and rewarding but also exhausting and challenging. Whether it's screaming in the supermarket or a meltdown at mealtime, children's behaviour can be unpredictable and difficult to manage. And this can sometimes leave you frustrated or angry. If you are sometimes feeling at the end of your tether click on the link below for more information on Take 5.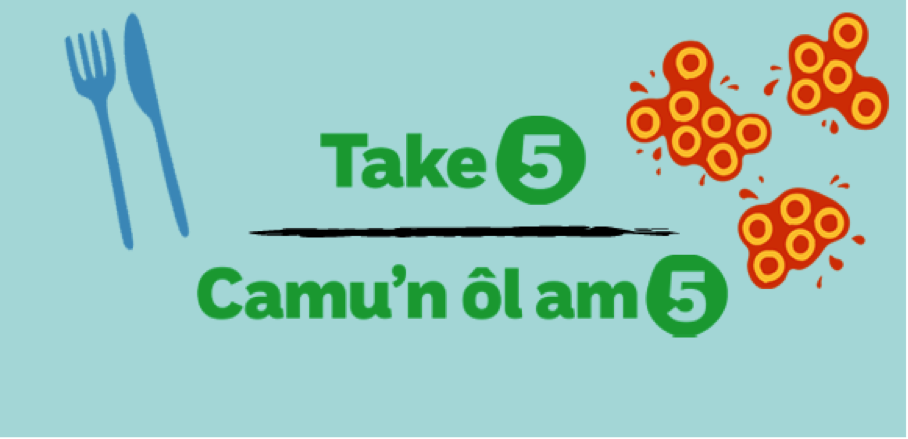 ---
Wellbeing for Future Generations
In 2014 a young people's needs survey was undertaken in partnership with schools which received nearly 1,000 responses from young people aged from four to over 20. The results were very informative and contributed to the development of school policies, council and partnership services. This autumn, a similar young people's survey is planned alongside other public engagement relating to the Wellbeing of Future Generations Act. This new Act places duties on the Council and our partners to work together to improve the social, economic, environmental and cultural wellbeing of our communities now and in the future and puts sustainable development at the heart of public services; a world-first for Wales.