Careers Info/Events
SJHS CAREERS ADVISER: NERYS BULLEN
I would like to introduce myself and the services I can offer as St Joseph's RC High School Careers Adviser, my role is to support you and your child when making important subject and career decisions. Families will have a key role in helping young people make decisions. When you have a moment, please read our newsletter to see how you can access the most up to date careers information, advice, and guidance.
If you would like to get in touch, please contact me on freephone 0800 028 48 44 ext 6560,
or E-mail: nerysbullen@careerswales.gov.wales
Please click on the drop-down menu below to see up-to-date events:
careers events (local & online)
Dewiswch Eich Dyfodol Cymraeg yn y Gweithle
Mae Gyrfa Cymru yn falch o wahodd disgyblion Safon Uwch Cymraeg Blwyddyn 12/13 i ddigwyddiad gyrfaoedd rhad ac am ddim Dewiswch Eich Dyfodol Cymraeg yn y Gweithle ar Ddydd Iau 27 Ionawr 2022.
Cynhelir y digwyddiad ar-lein drwy gyfrwng y Gymraeg, a cheir cymysgedd o fideos byw ac wedi'u recordio ymlaen llaw gan gyflogwyr yn y sectorau blaenoriaeth canlynol er mwyn arddangos sut y gellir defnyddio'r Gymraeg yn y gweithle:-
Chwaraeon a hamdden;
Y gyfraith a chyllid;
Gofal cymdeithasol;
Gwasanaeth cwsmeriaid;
Bwyd a lletygarwch.
Nod y digwyddiad Dewiswch Eich Dyfodol Cymraeg yn y Gweithle yw dangos i ddisgyblion y mathau o swyddi a gyrfaoedd y gallant eu gwneud gan ddefnyddio'r Gymraeg a'u hannog i barhau i ddefnyddio eu sgiliau Cymraeg ar ôl gadael yr ysgol.
Bydd Aled Roberts, Comisiynydd y Gymraeg, yn agor y digwyddiad gyda gair o groeso ac yna ceir cyflwyniadau diddorol gan amrywiaeth o gyflogwyr ledled Cymru.
Beth nesaf?
Bydd amserlen llawn ar gael cyn bo hir. Cofiwch gadw golwg ar wefan Gyrfa Cymru.
Cynhelir y digwyddiad ar Microsoft Teams. Bydd dolenni'r sesiynau ar gael cyn y digwyddiad.
Rhaid i ysgolion cofrestru cyn mynychu'r digwyddiad. I gofrestru cwblhewch y ffurflen fer hon.
I gael rhagor o wybodaeth e-bostiwch Rhian Thomas, Cynghorydd Cyswllt Busnes Gyrfa Cymru. rhian.thomas@gyrfacymru.llwy.cymru
Choose Your Future Welsh in the Workplace
Careers Wales is pleased to invite in Year 12/13 A-level Welsh pupils to a free Choose Your Future Welsh in the Workplace careers' event on Thursday 27 January 2022.
Held online and delivered in Welsh, there will be a mix of live and pre-recorded videos from employers in the following priority sectors showcasing how Welsh language can be used in the workplace:-
• Sport and leisure
• Law and finance
• Social care
• Customer service
• Food and hospitality
The Choose Your Future Welsh in the Workplace event aims to demonstrate to pupils what types of jobs and careers they can do using Welsh language and to encourage them to continue with their Welsh language skills when they leave school. The event will be opened by a welcome speech from the Welsh Language Commissioner, Aled Roberts, followed by engaging presentations from a range of employers across Wales.
What next?
A full timetable will be available soon. Keep checking the Careers Wales website.
The event will be available on Microsoft Teams. Links to the sessions will be available before the event.
Schools will need to register before attending. To register now please fill in the short form.
For more information please email Rhian Thomas, Careers Wales Business Engagement Adviser. rhian.thomas@careerswales.gov.wales
Careers wales
BULLETINS
| | | |
| --- | --- | --- |
| | | Careers Wales Bulletin Wk4 |
Careers Wales has launched a series of new education resources. They are aimed to help you as a parent or guardian to help your child with their Pathways from home.
Employers and Career Advisers will deliver five webinars. The webinars will:
Give you and your child an insight into careers in different sectors
Provide information on how your child can achieve their career goals
Include a lesson plan
Or, for further support or careers advice call 0800 028 4844 or email post@careerswales.gov.wales
Monday to Thursday: 9am to 5pm, Friday: 9am to 4:30pm
Calls can take up to 30 minutes. Before you call, think about what you want to talk about. It can help to have a pen and paper handy if you want to write down information. Or, request a callback.
Chat to an adviser using instant messaging.
Monday to Thursday: 9am to 5pm, Friday: 9am to 4:30pm
Contact us by Email
Email us we will answer within 2 working days.
---
For young people and their parents/guardians:
We have recently launched our new Wales-wide live chat with expert career advisers. This service is available Monday to Friday and is available for young people in schools and colleges, parents/guardians and those children who are normally home-schooled. It's an opportunity for them to discuss any concerns they have about the next steps and their future options.
We are in the process of developing our home-schooling resources. These are due to go live around Easter and will include a series of sector-specific webinars and lesson plans available to watch and download from our website.
To help adults with their employability needs, we are promoting vacancies on behalf of our partners and ensuring we are communicating the redundancy support we can provide to customers during this difficult time.
Over the coming weeks and months, we will be continuing to review and adapt our service delivery to ensure those who need our services can access them and get the support they need.
Please keep visiting our website and our social media channels for the latest information about accessing our services.
If you would like to get in touch with me, I can be contacted on nikki.lawrence@careerswales.com
Nikki Lawrence
Chief Executive, Careers Wales
CAREERS RESOURCES AND LINKS
WeCare Wales Career Cards
To help showcase the various care roles available working with children and adults in Wales, we have launched WeCare Wales Career Cards.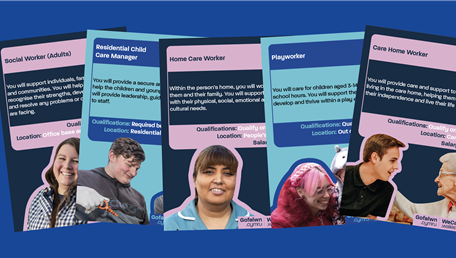 Our Career Cards provide information about roles in care, working with children and adults in Wales. Each card has a unique QR code that links to more information on our website, including videos of real people sharing their experience of working in the roles. The cards also include further learning suggestions and discussion topics to expand learning and awareness of the sectors.
We are working hard to create a digital version of the cards and are hoping it will be available on our website later this year. If you would like a physical copy of WeCare Wales Career Cards for your school or setting, please contact us.
Year 9-13 Parents
It doesn't matter what course you are doing. You need to know what options you have when you leave school.
30 minutes advice and information sessions are available with Nerys Bullen the schools Careers Adviser.
If you are uncertain about your child's options and would like to know more about how you can support them please book an appointment using the link below.
---
Year 8 and 9 Pathways
| | |
| --- | --- |
| Planning Ahead Booklet for Parents | Llyfryn Cynllunio ar gyfer y Dyfodol i Rieni |
Careers Wales are here to help you with access to information, advice and guidance that will help you to support them to consider all of the options available, so they can make informed choices about the career path that is right for them. This includes supporting them to:
Choose the subjects they study;
Understand more about continuing in education;
Generate ideas about jobs;
Understand more about apprenticeship opportunities;
Find out more about the world of work.
Please see the booklet above which explains more about our services and how we deliver them. We would encourage you to read this and discuss this with your child.
If you'd prefer to receive a printed copy or want further information, please contact your careers adviser Nerys Bullen on 0800 28 48 44 ext 6560, or email nerys.bullen@careerswales.gov.wales
---
Year 10 and 11 Pupils
Careers Wales can help you plan your career, prepare to get a job, find and apply for the right apprenticeships, courses and training. To learn more here about the options available to you at the end of Year 11 options click button below.
Year 12 and 13 Pupils
Careers Wales can help you plan your career, prepare to get a job, find and apply for the right apprenticeships, courses and training. To learn more here about your Post 17&18 options click button below.
---
Click here to see employment, apprenticeship or further education opportunities.