Local Events
Votes at 16
Votes at 16 – a new law to lower the voting age for Assembly elections
The Llywydd of the National Assembly, Elin Jones AM, will today introduce a new law to renew democracy in Wales by lowering the voting age to 16 for Assembly elections.
The Senedd and Elections Bill will empower 16 and 17-year-olds to vote at Welsh general elections, in time for the Assembly election in 2021, giving them a voice on decisions that will define their future.
Building on the work to establish Wales's first ever Youth Parliament last year, the objective is to inspire young people to participate in the democratic process.
When the National Assembly consulted on these proposals, one of the key themes to emerge from young people was that votes at 16 should be accompanied by appropriate political and citizenship education and public awareness-raising to ensure young people are encouraged and supported to exercise their right to vote.
The Assembly Commission will be working with Welsh Government and stakeholders to ensure that the relevant information reaches as many young people as possible before this positive change comes into force.
Many schools already engage with the Assembly through visits and by using materials made available by our dedicated Education and Youth Engagement team.
Before it can become law, the Bill will be subject to scrutiny, consultation, and debate by the Assembly. The hope is that the introduction of this Bill will provide another opportunity for schools to engage with the Assembly and to discuss the issues with students.
To assist, the National Assembly's Education and Youth Engagement team has developed online resources for school councils and teachers/youth workers to use to discuss lowering the voting age for Assembly elections to 16 which are available from today on Hwb.
They include:
A KS4 English lesson plan with a focus on persuasive techniques.
A session plan for school councils/youth groups.
A session plan for PSE lessons, incorporating short videos outlining the views of some of the newly elected Welsh Youth Parliament Members.
An assortment of slides related to the Wales Act 2017 and changes to the Assembly's powers.
A Power Pairs game to familiarise pupils with the powers of the National Assembly for Wales.
Discussion cards to facilitate debate on lowering the voting age.
An age threshold quiz.
A video explaining the proposed changes to the voting age for Assembly elections.
If you have any further queries, or wish to arrange a workshop about the Assembly with your school council / group or arrange a visit to the Senedd please call 0300 200 6565 or emailcontact@cynulliad.cymru.
If you would like to find out more about the Welsh Youth Parliament please contacthello@youthparliament.wales.
| | |
| --- | --- |
| | @WelshYouthParl |
| | /WelshYouthParliament |
| | |
---
South Wales Forces Day 2018
Sunday, 3rd June 2018 is the local forces Open Day.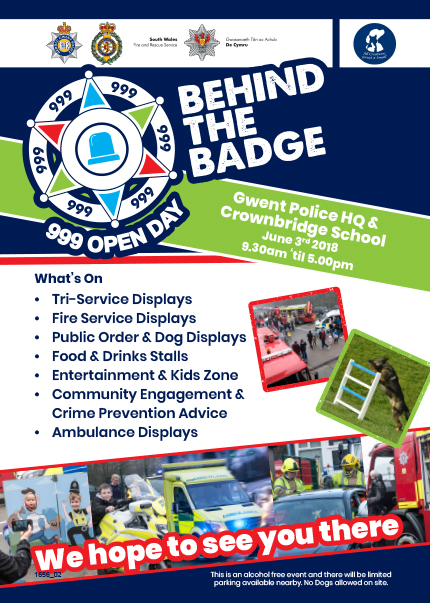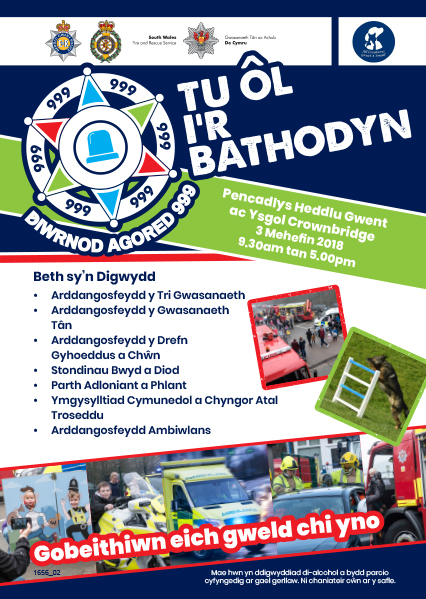 This year it will be bigger and better than ever before, incorporating South Wales Fire & Rescue Service and Welsh Ambulance Service Trust and many of our partner agencies spanning both Gwent Police Headquarters and Crownbridge School sites.
"Behind the Badge" will be a full day of engagement, activities and a few surprises thrown in… People of all ages will be entertained by public order demonstrations, dog displays and a tri-service response to a RTC etc. Following on from this excitement, visitors will be able to pop over to Crownbridge School where they will find the Kids and Food Zones, or be able to speak to staff from many of our departments and agencies in the Information Zone.
We have an event page on facebook and a page on our force website.