Apprenticeships/Careers
Useful links and downloads.
---
Apprenticeships
Eastman E1 Technicians
Eastman would like to retain the successful applicant after they have completed the apprenticeship, and there is a real opportunity to go on and complete a degree although this isn't guaranteed. Qualified E/I technicians are in demand throughout industry, all over the world, particularly in oil and gas.
The Contact for an application form is Nick Gilbert: 01633 754422
Click on this document for more information.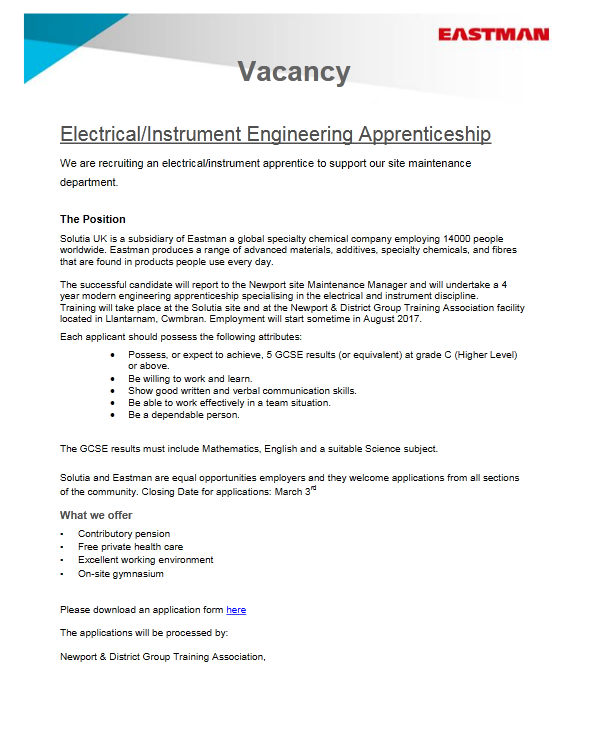 ---
BAE Systems
BAE Systems has opportunities at our Glascoed site for apprentices in the following fields, starting in September 2017:
* Mechanical Craft
* Welder / Fabricator
* Draughtsperson
* Mechanical Project Engineer
* Quality Engineer
To view a full job description and apply now visit www.baesystems.com
Closing date: 28 February 2017
---
Western Power Distribution
Craft Apprenticeship Scheme, GCSE Entry Level
"We are looking for talented, highly motivated people to join the WPD apprenticeship scheme. Our people are at the heart of our business success and our apprentices of today will be our skilled staff of tomorrow – safely delivering outstanding levels of customer service and operational performance for our customers."
Phil Swift, Operations Director
The core training takes a minimum of two years.
Apprentices will be required to achieve the City & Guilds 2339 Level 2 and Level 3 Qualifications in Electrical Technology Engineering delivered through Manchester Open Learning.
Apprentices will need to keep a Technical Apprenticeship Record (TAR) Portfolio which has a significant impact on the overall qualification. Your first twelve weeks will take place at one of our Training Centres.
Click on the link below for more information or download the Apprenticeship PDF
www.westernpower.co.uk
---
Tata Steel Newport Apprentice
Open Evening 10th January 2017
Tata Steel are holding an Apprentice Open evening at their Llanwern site on Tuesday 10th January 2016. This Open Evening is an opportunity for anyone interested in an apprenticeship at Tata Steel based at our two sites in Newport (Llanwern & Orb), to find out more information and meet some of the managers and current apprentices.
The open evening will be held at the St David's Conference room in Llanwern House. We welcome anyone interested in an apprenticeship to drop in and find out more about our apprenticeships. We will be open between 4.30pm and 6pm. At the open evening, we will have managers and apprentices on hand from each area to give further information and answer any questions you may have.
For our 2016 intake at our Newport sites (Llanwern & Orb), we are looking to recruit into the following areas:
• Electrical Engineering
• Mechanical Engineering
• Laboratories
• Customer Service
• Manufacturing
• Supply Chain
We are looking for people who have or are expecting to achieve 5 GCSE's at Grade C or above (including Maths, English Language and Science). For Supply Chain only, we are also looking for people who have or are expected to achieve 3 A Levels at Grade C or above or equivalent.
If you or anyone you know is interested in attending the Open evening and would like directions to the Llanwern site, please contact the recruitment team at Apprentice.Recruitment.UK@tatasteel.com.
Applications are open online now at www.tatasteelcareers.com/apprentices and will close on Sunday 5th February 2017.
---
Career Information
For further information on careers or apprenticeships in Wales visit
www.careerswales.com or call 0800 028 48 44.
---